Oscars broadcast dropped in Russia as Jared Leto mentions Ukraine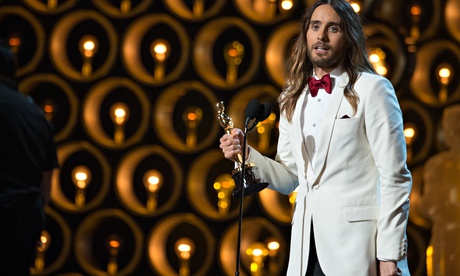 Jared Leto giving his acceptance speech at the Oscars ceremony. Photograph: AMPAS/Rex
86th Annual Academy Awards Oscars, Show, Los Angeles, America – 02 Mar 2014
Jared Leto giving his acceptance speech at the Oscars ceremony. Photograph: AMPAS/Rex
Russia's biggest television station last night cancelled its live broadcast of the Oscars ceremony due to the current international crisis in Ukraine.
State-run Channel One said it would broadcast a recorded version of the show in the early hours of Tuesday morning instead. A spokesman said: "Due to a large number of news reports on the situation around the autonomous republic of Crimea and Ukraine and due to the viewers' increased interest in news, Channel One considers the live broadcasting of the Oscar ceremony for five hours to be inappropriate, especially in the early morning hours, when the maximum amount of news broadcasting is done."
Russia had been due to begin broadcasting the ceremony for five hours at 4am Monday (3 March) morning Moscow time. Film critic Yury Gladilshchikov, who writes for Moskovskiye Novosti newspaper and would have provided Oscars commentary, said on his Facebook page that the show would be replaced by "a gathering of politicians for the morning programming".
Critics of Moscow suggested the move may have been politically motivated. Channel One reaches 99% of Russian households and pulls in a 19% audience share. State-owned broadcasters have been unwavering in their support of president Vladimir Putin's intervention in Ukraine's Crimea peninsula, which has a majority Russian population.
Dallas Buyers Club's Jared Leto made reference to the crisis in his acceptance speech for the best supporting actor prize on Sunday night. "To all the dreamers out there around the world watching this tonight in places like the Ukraine and Venezuela, I want to say we are here and as you struggle to … to make your dreams happen, to live the impossible," he said. "We're thinking of you tonight."
---